Video: "Sable's Cottage" 
Sable provides a variety of rituals and services to the Pagan community in particular and the metaphysical community in general.  She is available from 12 pm to 4 pm Tuesdays and Thursdays at Expressions of Time in downtown Vernon, BC, or at her home by appointment.  Many of her services are available online as well, and some are mobile, available at your home, office, or hospital bed almost anywhere in the Okanagan Valley.
Rates:
Sable charges $1 a minute for most of her available services, except when otherwise noted.  However, Sable believes in the principle of "Fair Exchange," meaning that she may be willing to accept another exchange of energy - perhaps energy healing, readings, or labour - in lieu of monetary compensation if you truly cannot afford her rates.  Please contact her to discuss.  
Divination & Tarot Reading
Sable has been reading Tarot for 20 years.  She views the Tarot as both a tool of guidance from the Universe and as a form of Jungian psychology to aid in counselling.  She's been runecasting for fifteen years channeled readings for about ten years and teacup reading for about seven.
Sable is qualified in Tarot, teacup reading, pendulum work,  runecasting, ceromancy (candle wax,) Goddess cards, animal oracle cards, psychic/channeled, drawing down, scrying, crystal gazing, dream interpretation.
In Person:
Contact Sable via email to arrange to meet with her in Vernon for readings.
Parties:
Sable will do Tarot and Psychic parties for $100 an hour, plus travel expenses.  Please contact her for details.
Online or Phone Services:
Sable's readings are available by Skype, phone or email.
Skype or Google Hangouts: available by appointment; please email for details.
Email:  Send Sable an email from her Contact page, detailing your name, your Zodiac Sun Sign, where you live, your email address, and your question.  She will return a link to the audio file of the reading to you, and a photo of your layout, within the week.
Phone: Payment is due in advance via PayPal.  Please also contact Sable by email or phone to set up an appointment time.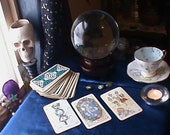 Divination 15 Minutes (Etsy Listing)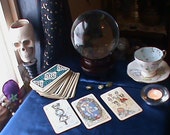 Divination Half Hour (Etsy Listing)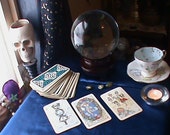 Divination One Hour (Etsy Listing) 
Reiki & Healing Modalities
Sable is a Reiki Master/Teacher in Usui Reiki, and she also incorporates Pagan elements and energy work into her Reiki sessions.  Healing sessions may include Reiki, Quantum Touch, Healing Matrix Level 1, Emotional Freedom Technique, Crystal Healing, Guided Meditations, Soul Retrieval and Journeywork, Past Life Journeys, Banishings and Exorcisms, Poppets and Spellwork
In Person: Contact Sable via email to arrange an in-person Reiki session in Vernon, BC.
Online Reiki Sessions:
Sable believes that the Distance symbol of Reiki also transcends time, so she does not believe that it is necessary to agree to meet with her online clients at specific times; just that her clients take the time to receive healing.  However, if you feel it is necessary to arrange to meet at a specific time, please email her to make arrangements.  Available by Skype, Google Hangouts, email or phone.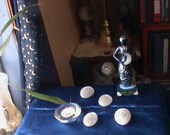 Healing Session Quarter Hour (Etsy Listing)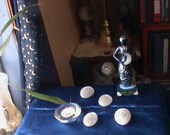 Healing Session Half Hour (Etsy Listing)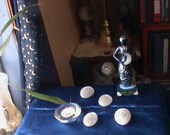 Healing Session One Hour (Etsy Listing) 
Reiki Attunements:
Sable offers training and attunements for all three levels of Reiki practitioner, online or in person.
Reiki Level 1 Attunement $44
Reiki Level 2 Attunement $88
Reiki Master/Teacher Attunement $132
Chakra Attunements:
Sable uses Reiki symbols and the direction of Reiki energy to attune the chakras. Each attunement deals with different physical, emotional and spiritual problems.  Please specify which chakra you would like attuned, or what problems you would like to deal with, in an email to Sable.
Chakra Attunement $5
Aura Attunements:
Sable uses Reiki symbols and the direction of Reiki energy to attune your aura.  This is effective for difficult emotional or mental difficulties, such as addiction, neuroses, and overcoming trauma.  Please discuss the nature of the problem you would like to deal with in an email to Sable.
Aura Attunement $5
Consultation Services
Sable offers a variety of other magickal and metaphysical services, including Herbal Healing (Chartered Herbalist), Guided Meditations & Journeywork, Spiritual Counselling, Life Coaching, Spellcrafting, Hedgewitchery, Shamanic Work, Soul Retrieval, Dream Interpretation, Psychic Development, Psychic Defense, Personal Classes: Wicca, witchcraft, Goddess spirituality, magick.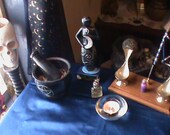 Consultation 15 Minutes (Etsy Listing)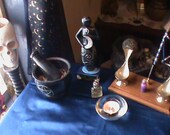 Consultation Half Hour (Etsy Listing)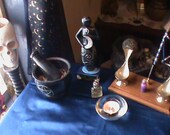 Consultation One Hour (Etsy Listing)
Rites & Rituals
Sable is happy to assist with all Wiccan and Pagan Rites of Passage rituals.  She provides these services free of charge save expenses, though donations to her CWABC Temple are welcomed and appreciated.
Wiccaning:
This is the Wiccan equivalent of a baptism ceremony, which calls upon the Wiccan deities to protect and bless a child until s/he makes his/her own religious choices.
First Moon:
This ceremony celebrates a young woman's first menstruation as a Women's Mystery and a Rite of Passage.
Coming of Age
This ritual is performed for young people graduating high school or leaving home for the first time, celebrating their adulthood.
Handfasting/Wedding
Sable offers both legal and country (informal) wedding and handfasting ceremonies in Pagan traditions.
Fertility Blessing
An invocation of the power of fertility deities to bless a woman or couple attempting to conceive.
Birthing Rite
Sable helps to welcome your baby to the world at the moment of birth, working in concert with your doctor, midwife and/or doula.
Handparting
This ceremony acknowledges the grief of ending a relationship and helps you to come to terms with that.
Banishing/Releasing
Symbolically destroying something you want to be rid of, be it a bad habit, addiction, or destructive behaviour.
Blessing/Protection
A physical blessing and protection ritual.  Sable teaches you how to do it for yourself afterwards.
Croning/Saging
This ritual is for women in menopause or men entering elderhood.  Sable does not feel qualified to initiate others into this Rite of Passage because she is not yet at this stage of life, but she will assist others in the writing and performing of the ritual.
Requiem/Death Rites
Acknowledging the passing of a loved one and aiding in his/her crossing.
Esbat and Sabbat Rituals
Sable holds public Wiccan rituals and personal ones for holy days.
Intuitive & Pastoral Counselling
Using meditation, ritual, Tarot and gentle questioning, Sable tries to help you understand your emotions and heal your life.  Wiccans and Pagans may benefit from pastoral Pagan counselling.  Sable is also available for hospital and prison chaplaincy. 
Mentorship
Sable offers mentorship and training in Wicca, Witchcraft, energy work, Reiki, and psychic development.  Contact her for details.
Pagan Advocacy
Pagans often are the subject of discrimination and fear from the general public and people in authority.  Sable has considerable experience in advocating for Wiccans and Pagans.  If you think you have need of this work, please contact her.